Skip to content
PURCHASE PERSONAL TRAINING PACKAGE
One-On-One and Small Group Personal Training
Lakeview Fitness offers one-on-one and small group personal training that is customized to help you reach your health, fitness, and wellness goals.
Maximize your membership by adding personal training to your routine! Lakeview Fitness' personal trainers help you develop a fitness plan tailored to meet your specific goals and further support you through your journey to maintain a healthy lifestyle. Whether you are new to exercising, want to create a new routine, or improve the efficiency of your current program, we offer training packages that fit your budget and needs.
Complimentary Consultation
A 30-minute complimentary consultation is available prior to beginning workouts with a personal trainer. You will benefit from the expertise of a certified personal trainer (CPT) in developing a fitness plan, establishing goals, and building trust and rapport between trainer and client. Request a consultation by clicking on the link below or register in-person at the Guest Services Desk.
Lakeview Fitness membership is not required to purchase personal training. The fees below are listed as member/non-member.
Individuals must be 11+ years to take advantage of personal training.
Request a Personal Training Consultation
Personal Training Fees
6 Months*
2x Per Week
6 Months*
3x Per Week
12 Months*
2x Per Week
12 Months*
3x Per Week
30 Minutes
$298/328
$435/479
$274/301
$406/447
60 Minutes
$426/469
$621/683
$391/430
$581/639
*Prices are per month and billed automatically via Electronic Funds Transfer (EFT)
We offer a diverse set of Certified Personal Trainers to fit all of your fitness needs.
Andre Grayer
ISSA Personal Trainer Certification
Specialty:
Weight loss, strength building, self defense.
View Bio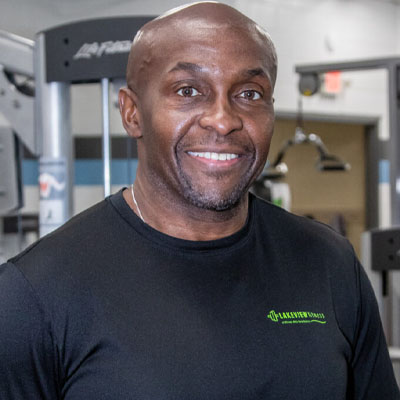 Sidney Porter
IFA Aqua Fitness instructor, Hydro Pilates Instructor, ACE Certified Health Coach, ACE Behavioral Change Specialist, ACE Weight Management Specialist, ACE Nutrition Specialist
Specialty:
Improving physical and behavioral health across all demographics. Aquatic personal training.
View Bio
Andy Santos
NASM Certified Personal Trainer, Corrective Exercise Specialist
Specialty:
Small group training, correcting imbalances, biomechanics, and increasing movement efficiency.
View Bio
Mike Pagan
ACE Certified Personal Trainer, ACE Certified Fitness Nutrition Specialist, B.S. Athletic Training, BOC Certified Athletic Trainer
Not currently accepting new clients.
Specialty:
Working with athletes to improve speed, strength, muscle mass. Focusing on body mechanics and education
View Bio
Chris Trevino
Associates Degree in Health and Wellness Promotion, Certified Personal Trainer
Specialty:
Muscle development and strength training.
View Bio
NASM & AFAA
Lakeview Fitness partners with NASM and AFAA to provide discounted trainings for certifications and continuing education for staff and members seeking to further their education in the field.